Spa Dental, proudly supporting sporting clubs in the local community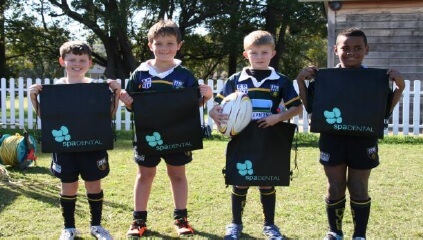 Spa Dental, proudly supporting sporting clubs in the local community
Dr Sean Parsonage and his associates at Spa Dental have been caring for the people of Ryde, and beyond, of all ages, for over 15 years. With a trusted reputation in the community for being at the forefront of innovation and patient care, the team at Spa Dental are thrilled to be supporting local sporting clubs including Ryde Rugby and Macquarie-Saints Baseball club.
Over the past few years, Spa Dental have developed a special relationship with the Ryde Rugby Club and have been able to custom-make their players mouthguards and take care of them and their families oral health. Principal Dentist, Dr Sean Parsonage is thrilled to be able to support the local community'. 'Dr Parsonage explains that 'this involvement enables us to act on our mission to dedicate ourselves to improving people's lives by providing them the best path for their health, wellbeing and happiness'.
Interestingly, what many of the players have loved the most from the partnership is the array of colours and patterns they can choose from for their mouthguards. 'They can even have their name or nickname printed on the inside, along with a contact phone number, in case it gets lost', says Dr Parsonage. Spa Dental ensures players are sport ready with all mouthguards coming with a storage case and a handy draw string bag to keep their rugby boots in.
Engaging in one of the highest contact sports, Rugby players need to guarantee they have the best protection, and a custom-fitted mouthguard is recommended by dentists and the Australian Dental Association (ADA). Spa Dental is pleased to be able to support and serve the Ryde Rugby Club and its players to provide maximum protection for their oral health.
At Ryde Rugby, the emphasis is on development and fun. They concentrate on giving players the necessary skills and if players have fun doing it then the results will follow. Like Spa Dental, Ryde Rugby is family orientated with the simple aim of providing a fun and safe environment. Dr Parsonage explains 'We love taking care of families and treating kids, and we support the free dental treatment government plan provided through the Child Dental Benefits Schedule'.
The team at Spa Dental are committed to building and maintaining long lasting, personal relationships with patients and will genuinely take the time to get to know patients and hold their hand throughout the process. 'It is important to us that we take the time to give you the right care that you deserve' says Dr Parsonage. Spa Dental offers patients a wide range of services including: general, preventative and restorative dentistry, cosmetic dentistry, whitening and implants. They also offer orthodontic alternatives including Invisalign and Myobrace and have successfully helped patients with snoring and sleep apnoea.
Personalised high quality treatment and service is what the team at Spa Dental consistently strive for in their quest of 'creating beautiful smiles everyday'. From giving you a cappuccino on arrival, genuinely listening to your concerns and taking the time to get to know you as a person, not just a patient, to the end results of your treatment, Spa Dental want to make the local community smile and keep on smiling.
To contact Spa Dental, please call 02 9809 2900 or via the website www.spadental.com.au